Please see the attached info-thanks and lets once again turn Tiger Nation PINK!!!!!!!!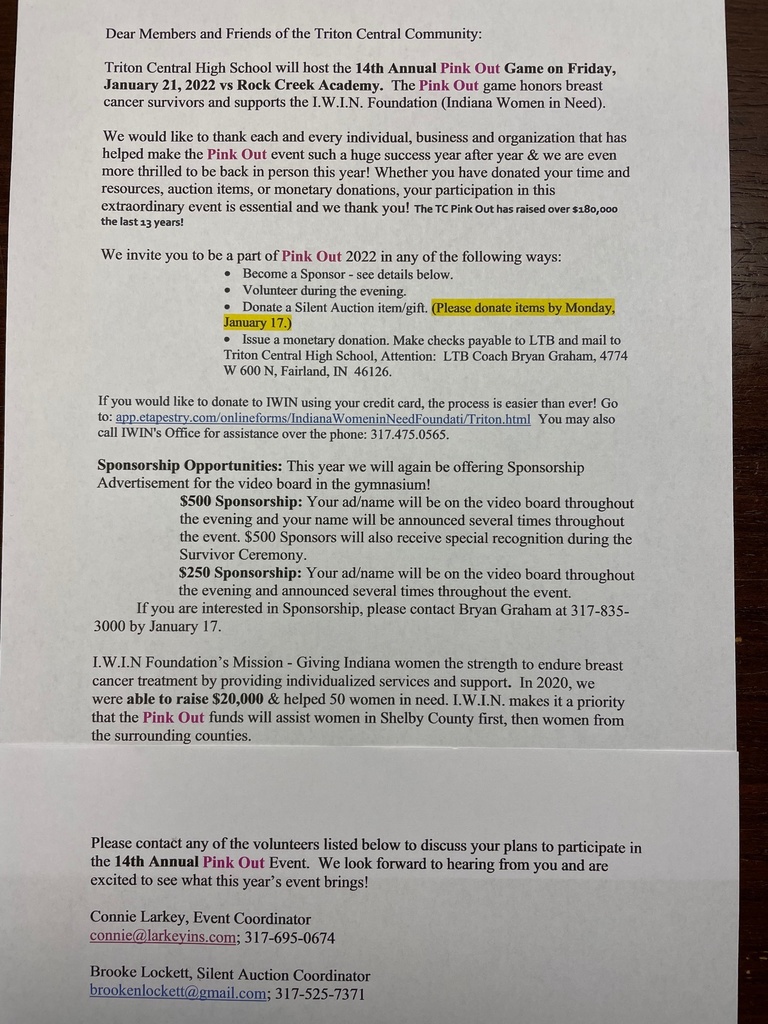 FTA Basketball Info!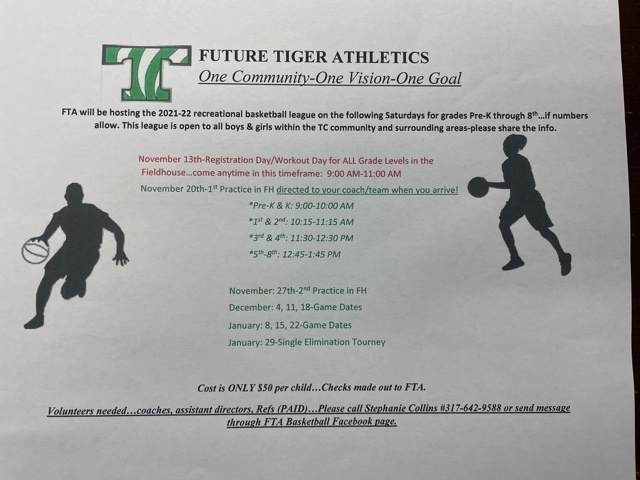 Volleyball Club 2021-2022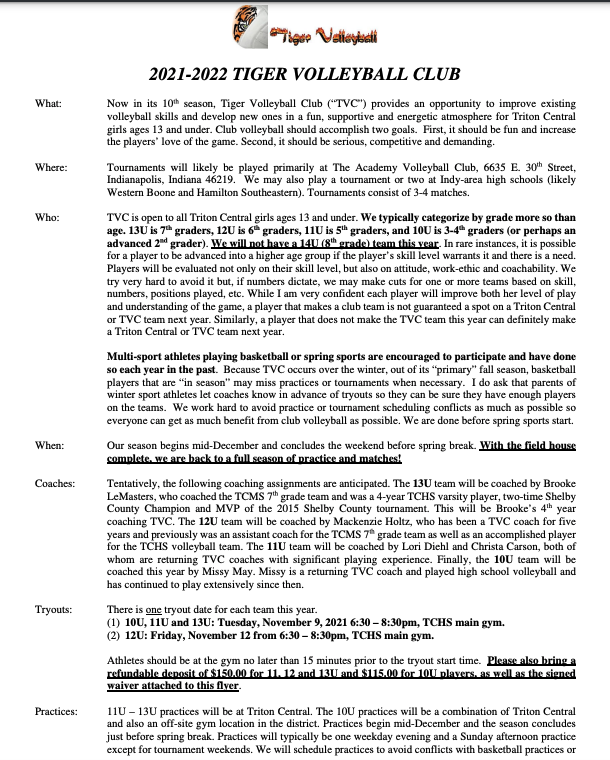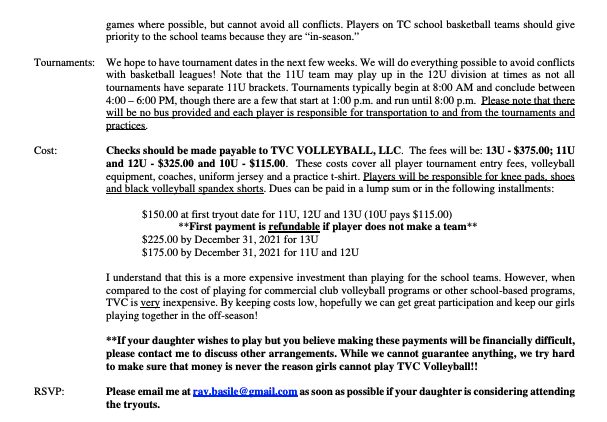 School Picture Retake Day is ​October 14th Pre-order link :
https://inter-state.com/flyerentry/61817Z
*Please note: Students wishing to have a replacement package printed, must return their original picture package on retake day.
FTA Basketball Sign-up Form: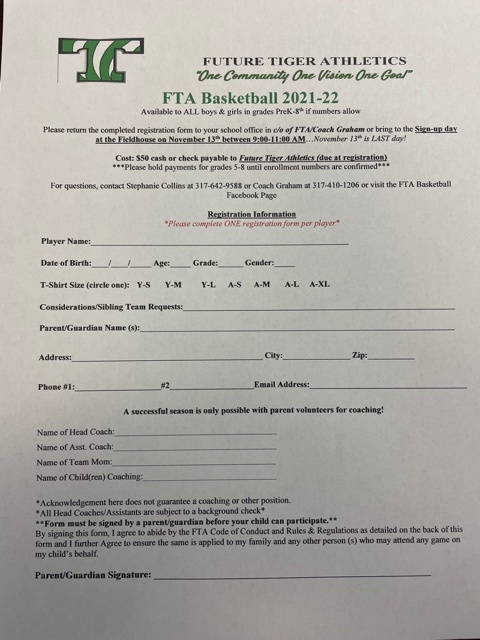 FTA Basketball Info for grades PreK-8th; Let's Go Tigers!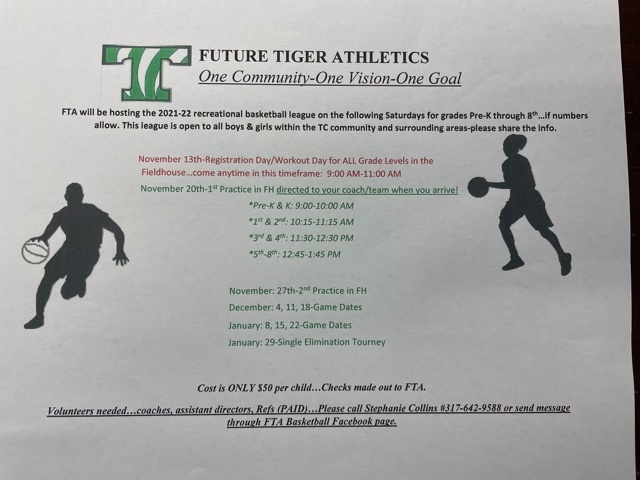 Parent-Teacher Conferences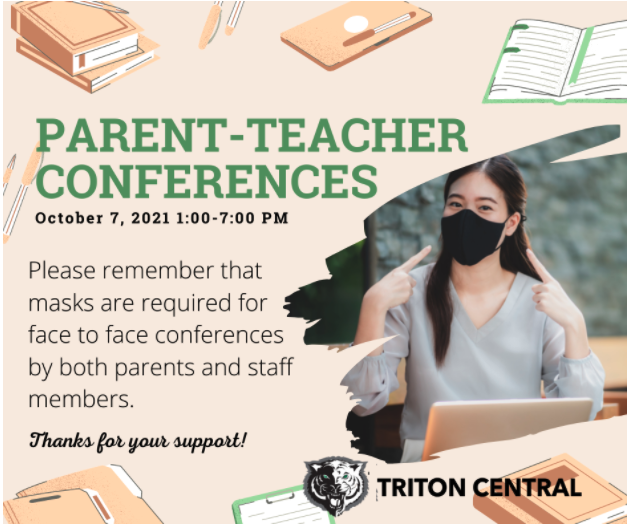 An important message from Chartwells regarding supply chain issues. Please following this link:
https://5il.co/zr4b
Reminder...5th & 6th Grade LTB tryouts start on Monday, Sept. 27th-Let's Go Tigers!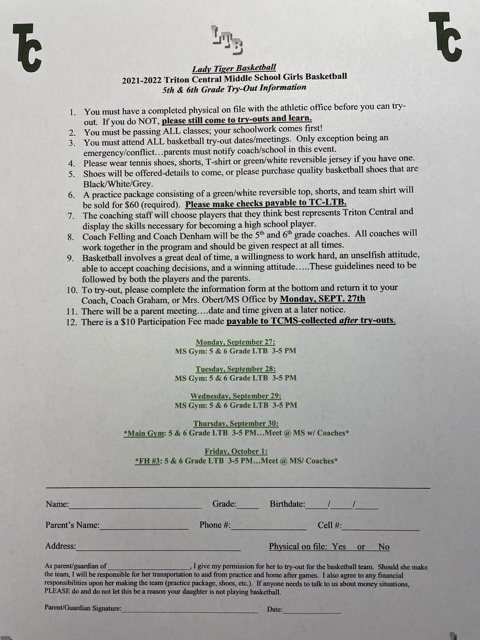 Starting TUES., SEPT. 14th ALL individuals attending INSIDE Athletic/ECA events on the TC campus will be required to wear a mask; no matter age or if vaccinated. Coaches/Athletes will wear them at INDOOR activities EXCEPT when an Athlete is directly involved with an activity.
5th & 6th Grade LTB Tryout Info...Lets Go Tigers!!!!!!!!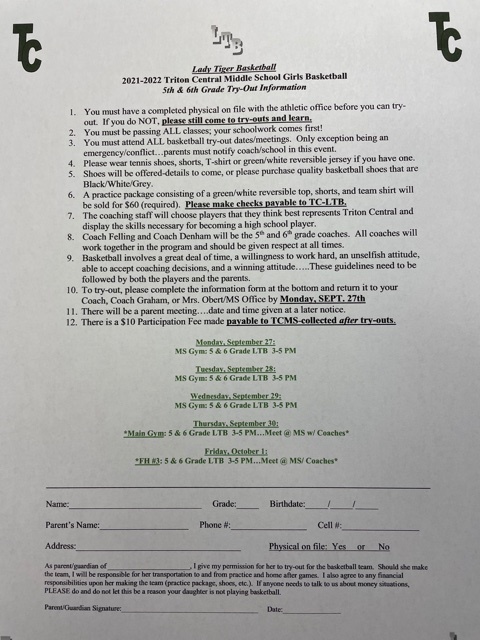 Tomorrow, Thursday, September 2nd is school picture day!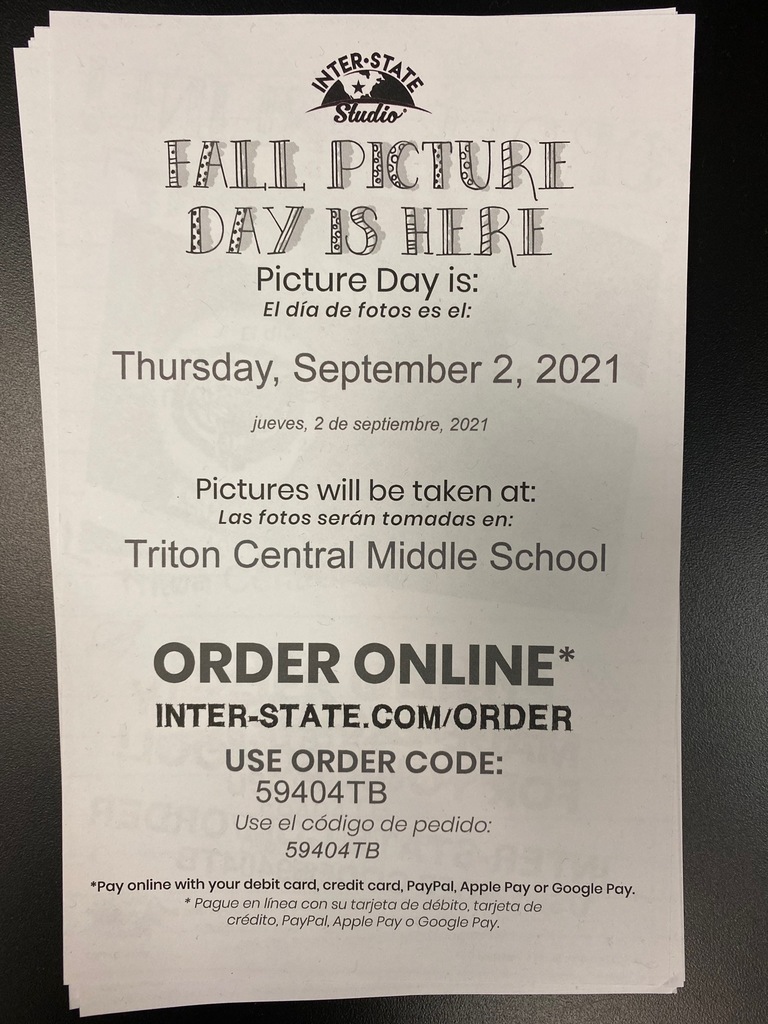 TC Football TONIGHT vs Greensburg-7p FTA players/cheerleaders/coaches in uniform get in free-parents pay $6; buy tickets online early-link below. Kids will be announced at 1/2 time, listen to PA for when to meet in endzone.
https://public.eventlink.com/tickets?t=3454&p=9252

Return Options from Covid Close Contact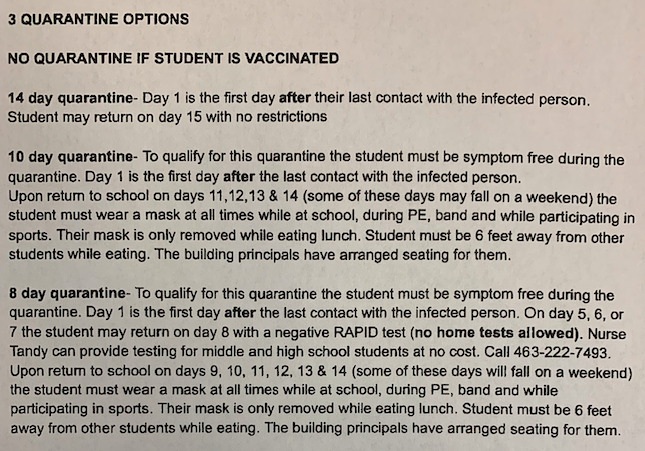 LTB/IGHL practices have started for the Fall season but we could use a couple more girls for grades 5-8. Any girl interested can reach out to Coach Graham @
bgraham@nwshelbyschools.org
or Kira Murdick at 317-363-6100. If you have any questions please feel free to ask!
To Triton Central Parents/Guardians: Effective immediately, NWCSD will make revisions to its social distancing parameters in specified instructional areas and in the Return to School from Quarantine options available to students and staff. Specifically, classroom teachers will be altering student seating in specified classroom areas to maintain 6 feet of distance where possible. Those changes are driven by an effort to reduce the number of students identified as a close contact while attempting to have a minimal impact on instructional practices. The focus of those efforts will primarily be at the middle and high school level. Student seating arrangements at the elementary will remain unchanged at this time. Our local experience from last school year revealed that the vast majority of students identified as a close contact did not later develop into COVID positive cases as a result of that initial contact. It is with that in mind, that the NWCSD's Return to School from Quarantine Options will be revised to the following: NWCSD Quarantine Return to School Options: 1) Completion of 14 day Quarantine period as assigned by Nurse Tandy. 2)Quarantine can end after Day 10 if no symptoms are reported. Observation of mandatory masking and social distancing criteria during days 11 through 14. 3)Quarantine can end after Day 7 if a diagnostic specimen test is negative and no symptoms are reported. Observation of mandatory masking and social distancing criteria during days 8 through 14. Utilization of Options 2 or 3 requires prior approval and ongoing communication with Nurse Tandy. This change is effective immediately and applies to all students or staff who are currently quarantined. Nurse Tandy may be reached by phone at (463) 222-7493. As we have learned throughout the pandemic, the situation is fluid and requires NWCSD as an organization to be flexible and nimble. We will continue to review our practices and adjust in ways that are prudent as the situation locally and statewide develops. Thank you for your patience and understanding, Mr. Chris Hoke Superintendent NWCSD of Shelby County

Check breakfast off your list and take advantage of free school meals this year! Thanks to flexibilities provided by the USDA's National School Lunch Program, students will have the opportunity to enjoy meals at no cost. Meal Times: Elementary 8:15 AM - 9:00 AM Middle 7:30 AM - 8:00 AM High 7:30 AM - 8:00 AM #servinguphappyandhealthy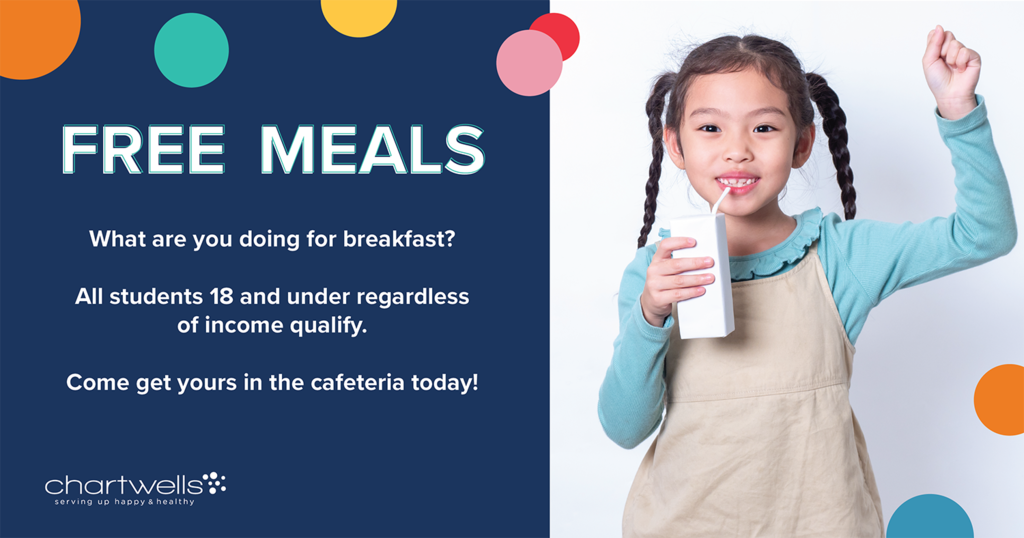 We will have a Spirit Day this Friday, August 13th, for our eLearning practice day at TCMS. Students can wear school appropriate pajamas that day to school. Please do not let your student bring blankets to school.